Serving our communities since 1890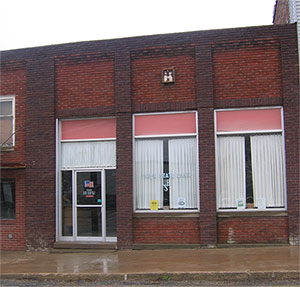 1890
Union State Bank of Bridgewater opened for business on January 6, 1890, under the name of Union Bank. It was operated and owned by J.G. Hendry, President, G.G. Rechtenbach, Cashier, and Wes Tyler.
J.G. Hendry and G.G. Rechtenbach bought out Mr. Tyler during the first year.
---
1892
G.G. Rechtenbach continued as cashier until his death in 1892 when Hattie E. Hendry assumed the duties of cashier and held the position until her death in 1929. Her father J.G. Hendry, who started the bank, passed in 1919.
---
1916
In 1916 Union Bank burned to the ground, leaving only the vault standing. After three days of cooling, the vault was opened to find all valuable papers saved. The bank was quickly rebuilt, which is the existing brick building.
---
1920
The bank was incorporated as a state bank in 1920. John McDermott, Otto Raasch, George Arnold, and Ed Arnold purchased bank stock and the bank was capitalized for $25,000.00. Ed Arnold served as an officer until 1950.
---
1930
As you may guess, the bank went through some rough times in the 1930s during the great depression and drought. The bank closed in the spring of 1933 but reopened soon with the help of local business owners and farmers. The depositors – by majority vote—signed to waive one-half of their deposits and set up a trust fund to liquidate all the substandard notes and bonds. It took 10 years, but all depositors were paid in full by the year 1943.
---
1939
Walt F. Kniep came to the bank in 1939 as a cashier. In the spring of 1940, the Union State Bank charter expired and the Superintendent of Banking refused to renew the charter. After several meetings with the Superintendent by Ed Arnold, it did not look like the charter would be renewed. Walt then went to Chicago to meet with the FDIC. Upon his return to Bridgewater, Walt asked H.S. Love, State Representative from Bridgewater, to accompany him to Des Moines where they simply would not leave the building until the Superintendent of Banking met with them. After hours of discussion, the Superintendent relented and approved the charter.
This is a story of Walt Kniep and his family, Ron and Tim Kniep, and how determined Union State Bank owners and staff are to serving this community.
Surprisingly, after working into a liquid and strong financial condition, the owners proposed to dissolve Union State Bank in December of 1949, just ten years after fighting to keep the bank open. Community members E.K. Williams and Guy J. Pote, minority directors, and W.F. Kniep, who no longer worked at the bank, had a meeting with other leading citizens and purchased the bank from the Arnold family.
---
1962
Ron Kniep joined the bank in 1962, and Tim Kniep came on board in 1973.
---
1976
Ron Kniep became president in 1976, Tim Kniep served as Cashier, with Walt Kniep staying on as Chairman of the Board. Walt stayed with the bank in some capacity until 1999.
---
1979
In 1979, the decision to move the charter to Greenfield was made in order to continue to grow the bank taking effect on January 1, 1980. At that time, total assets amounted to $8,087,954.56.
Ron Kniep served as President until 2004 when Paul Nelson took over that position.
---
2007
In 2007, the Kniep family decided it was time to sell Union State Bank. The bank's attorney was contacted and the bank was put out to bid. After a few months, Peg Scott worried about the future of the bank as a small community bank and about her future as an employee. She made the statement to her husband, Jim, "People who have no money buy things all the time, maybe we should look into buying the bank." He stared at her for a few minutes and just said, "Okay, let's call a friend of ours who was involved in a small local bank purchase and see what we can find out." They spoke to their friends who referred them to Beau Gamble with the Davis Brown Law Firm in Des Moines. Peg and Jim were fortunate to find that some of the Union State Bank shareholders, bank customers, and local citizens were willing to invest in the future of this small community bank.
We have never had a big turnover at Union State Bank, which speaks to the cohesive and understanding work environment. We have been fortunate to have very valuable and loyal employees over the years that have spent most of their careers with us.
It is Union State Bank's mission to remain a cornerstone of the community and to serve the area for many, many years to come. Without the loyalty of those we serve, we would not be successful today and we would not be looking forward to a successful future.